Day #2 - Four Possible Southwest Cities
Posted by Jaye Achtenberg on Friday, December 4, 2020 at 11:33 PM
By Jaye Achtenberg / December 4, 2020
Comment
Day 2 Continues...
But first some explanations on common airline terminology....
Because I'm trying to follow Q on his 3-day trip, I have to look ahead at his schedule to find out how the LOADS look. The loads is a term that is used referring to the number of seats taken/available for standby, or non-rev, passengers...that's me! Non-Rev is a term that is often used instead of standby, because it refers to the group of people that are either employees of an airline, or families of airline employees, or those that use some type of pass that the airline employee gives to friends/family. Non-Rev stands for Non-Revenue, meaning the airline doesn't make any revenue/money from the ticket. Those that fly non-revenue can only occupy a seat on the plane if the airline hasn't sold all their seats to the paying public.
Non-revenue passengers are the last people to get a boarding pass and the last people on the plane. Those that non-rev are often in Section C, unless it's a lucky day with lots of open seats and then the boarding pass may say Section B. Yay!
But, I digress, back to the loads. With 25 open seats to MDW (Chicago's Midway), I was confident I would make it to Chicago. The next three legs (segments/flights) on Q's schedule were FLL (Fort Lauderdale), MSY (New Orleans) and HOU (Houston Hobby).

Hello Chicago Midway...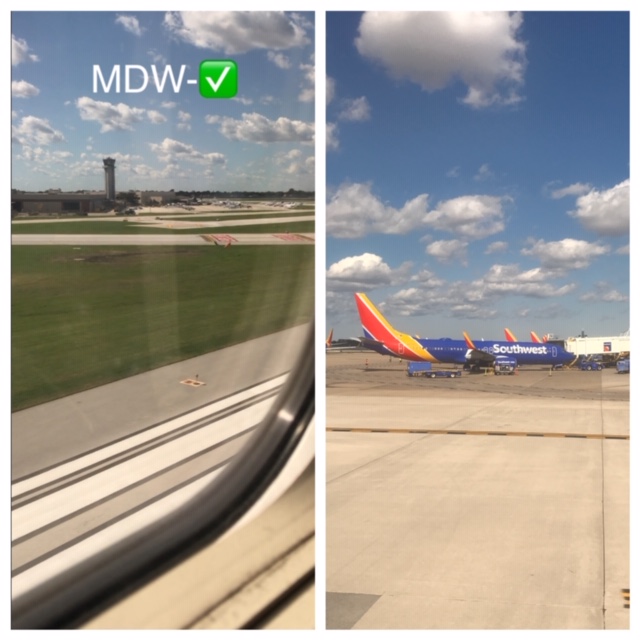 I had booked my ticket through to New Orleans (MSY). There were lots of seats and I didn't have to worry about getting stuck in Fort Lauderdale. But after my arrival into MDW, I checked with the gate agent, and they did have a seat for me, as well as a seat from FLL to MSY.
I was GOLDEN and headed back to Florida.....